This is an archived article and the information in the article may be outdated. Please look at the time stamp on the story to see when it was last updated.
IMPERIAL, Calif. – Investigations were underway Thursday into what caused the non-fatality crashes of two warplanes with San Diego connections within hours of each other on land and at sea.
Shortly before 4:30 p.m. Wednesday, a Yuma-stationed Marine Corps AV-8B Harrier attached to the Miramar-based Third Marine Aircraft Wing went down in Imperial, destroying two homes and heavily damaging a third, according to military officials. About 5 1/2 hours later, a Navy FA-18E Super Hornet plunged into the ocean off the coast of Southern California.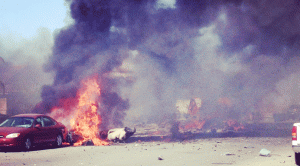 Both pilots were able to eject from their aircraft without serious injury.
According to Imperial city officials, eight homes were evacuated following the crash there, including the ones that were destroyed. Local authorities and military personnel were conducting cleanup operations.
Raoul Aceves lives in the neighborhood where the plane crashed and was startled when it crash-landed.
"I heard a loud boom and all of a sudden I woke up," Aceves said. "The house shook. We actually thought it was an earthquake."
Aceves was one of the first people to get to the scene.
"There were actually bullets flying, you could hear them popping," Aceves said.
It was enough to scare most people away, but Aceves ran towards the inferno. He saw the owner of one of the houses that caught on fire.
"He's like 80 something years old," said Aceves, adding that the owner's was able to get his wife away from the flames.
"We see these planes fly above our houses all the time. We think in the back of our minds something like this could happen," he said. "What's even more unbelievable?  No fatalities – not even a single injury."
The Navy fighter jet went down during a landing approach to the Coronado- based aircraft carrier USS Carl Vinson, according to Pacific Fleet officials. It has not been recovered.
Due to the crash of the Hornet, all other aircraft previously scheduled to land aboard the Carl Vinson were rerouted until further notice to Naval Air Station North Island in Coronado, the homeport of the ship.
The Carl Vinson, from which Osama bin Laden was buried at sea in May 2011, is currently off the coast of Southern California, conducting training exercises.
The crash in Imperial was the second of its kind in less than a month involving a Yuma-based Harrier attached to the 3rd MAW. On May 9, one of the subsonic aircraft went down in an unpopulated area of Gila Indian Reservation, about 40 miles southeast of Phoenix, also resulting in no injuries.
The British-developed Harrier, known for being able to take off and land vertically, giving it the moniker "Jump Jet," is being phased out after being in use since the late 1970s.
According to the Yuma Sun newspaper, the two recent Harrier crashes were among 11 that have occurred in southwest Arizona and California since 1996. In those accidents, two pilots died and two people on the ground suffered minor injuries.
In December 2008, four members of a University City family died when a disabled F/A-18D Hornet plunged to earth into the northern San Diego neighborhood on an emergency landing approach to Marine Corps Air Station Miramar.
Killed were 36-year-old Youngmi Lee Yoon; her daughters, Grace Yoon, 15 months; and Rachel Yoon, 7 weeks; and Seokim Kim-Lee, Youngmi's 59-year-old mother.
Military investigators blamed the crash on a mechanical failure in the jet, as well as poor decisions by the pilot and flight-control personnel on the ground.
Three years after the deadly accident, a judge ordered $17.8 million in damages to relatives of the victims.