This is an archived article and the information in the article may be outdated. Please look at the time stamp on the story to see when it was last updated.
SAN MARCOS, Calif. — Firefighters have evacuated residents from a San Marcos neighborhood and are setting up to make a stand against a wall of flames that is threatening dozens of homes.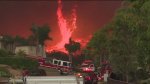 Fire officials have evacuated the homes around Via Del Campo, Paseo Tierra and Coronado Hills Road.
The hillside above the neighborhood is covered in flames.