This is an archived article and the information in the article may be outdated. Please look at the time stamp on the story to see when it was last updated.
It lurks in the shadows, lying in wait.   Revealing incremental abnormalities so slight and varied, it cruelly beguiles us into complacency.  That is, until its truly insidious nature announces its presence in some hideous way: a seizure, loss of speech, dizziness or that dreaded and undeniable image on the MRI.
That "it" is a brain tumor and I've come to loathe them all.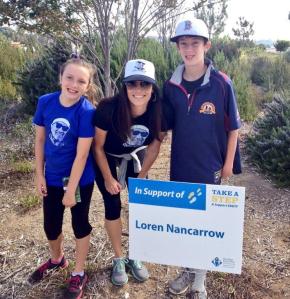 They take up space in the brain, but they brutally break the heart.  The methodical deterioration is so hard to witness, I really don't know who the disease is harder on, the patient or the caregiver.  To systematically strip people of their abilities or memories one by one is torturous.  I know.
Nearly a year to the day, I've seen my buddy at work Loren Nancarrow lose the simple dexterity to button a jacket, to the total loss of the use of his right hand, culminating in his current fight to get back on both feet.  Then my buddy at home, my poor dog, started with a droopy eye, then a bum hind leg, only to suffer total paralysis in two and a half weeks time.   I don't know which is worse – his death or
the front row seat to his rapid decline.
I think I'd rather be hit by a truck instead of being t-boned by these diagnoses and that's exactly what brain tumors do.  They blindside you.  By the time you know they're there, you've lost so much ground you're swimming upstream against a current that seems to strengthen with every stroke.  It's exhausting physically, mentally and emotionally in ways no MRI could ever pick up.
But the battle is worth the fight.  People do survive.  However, the war they have to wage to get there can be costly.  Whether it's the mounting medical bills, transportation needs, home care or time off work, patients and their loved ones can be financially devastated.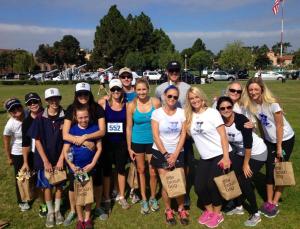 That's where the San Diego Brain Tumor Foundation comes in.  They raise money to provide some of that monetary support while offering emotional support as well.   Both are invaluable.
This past Saturday, my children and I, along with an army of Fox 5 colleagues walked in Loren's name.  We were "The Nancarrow Project" team and took the steps for Loren, who can't take them himself right now.  With mile markers for survivors along our path, we walked or ran a 5K in hopes of helping usher our friend and his fellow warriors over the finish line and onto better health.  We will carry them if we have to.
It's beyond unfortunate for the Nancarrow family that Loren was stricken with a brain tumor, but it is so fortunate for the cause that he was.  I cannot think of a better man to carry the torch for awareness, treatment and a cure.  He personifies zest for life and is a local icon – beloved by so many.
But love is not enough.  He needs your help and so do thousands of other families who wake up every day struggling to take a step forward, let alone in the right direction.  I implore you to donate your time, money or both, to put brain tumors in their place: way in the back, instead of in the driver's seat.
Give patients and their families a lift. Help now.
UPDATE: About 750 walkers helped raise nearly $67,000 during the 3rd Annual San Diego Brain Tumor Foundation walk on Saturday, September 21, 2013.  The Nancarrow Project Team and Loren's daughter Hannah received special awards for raising around $11,000. 
READ MORE: Kathleen Bade's Anchormom Blog