This is an archived article and the information in the article may be outdated. Please look at the time stamp on the story to see when it was last updated.
SAN DIEGO – Online voting got under way Tuesday to name the 12-week-old giant panda cub at the San Diego Zoo.
The finalists, narrowed down from more than 7,000 name suggestions received last month, are: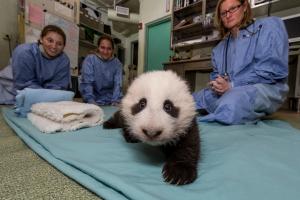 —  Qi Ji, which means Miracle;
— Yu Di, which means Raindrop;
— Da Hai, which means Big Ocean or Big Sea;
— Xiao Liwu, which means Little Gift;
— Yong Er, which means Brave Son; and
— Shui Long, which means Water Dragon.

The choice that receives the most votes at donate.sandiegozoo.org/pandaname by 5 p.m. next Tuesday will become the male cub's name. The website allows one vote per email address.

The zoo is following Chinese tradition by naming the male cub after he is 100 days old, in mid-November.

He weighed 7.7 pounds during his weekly examination today and appears to be developing normally, according to the zoo.

The San Diego Zoo is one of four in the U.S. that keep giant pandas for research purposes. Around 1,600 are believed to be left in the wild in their native China.