This is an archived article and the information in the article may be outdated. Please look at the time stamp on the story to see when it was last updated.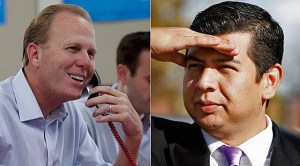 SAN DIEGO- Volunteers for the San Diego mayoral campaigns are gearing up for a busy weekend.
Both campaigns have hundreds of volunteers lined up to work phone banks and go door-to-door with just a few days until the election.
"You're gonna vote for David Alvarez?" Elaine Graybill asked one resident from the David Alvarez phone bank in Kearny Mesa Friday afternoon.
Graybill doesn't live within San Diego city limits, but as an Alvarez supporter she is still volunteering her time.
"We've had a lot of special elections," she said. "People are tired of it. But we've gotta do it one more time. One more time and then we'll have the first Latino mayor of San Diego and that is going to be exciting."
Across town another the Kevin Faulconer phone bank was also busy Friday evening.
"My name is Luke and I'm a volunteer for Kevin Faulconer for mayor," Luke Beckmann responded when a resident answered his call.
Beckmann said he's a recent college graduate who is volunteering on the Faulconer campaign. He recognized that voter turnout is always a concern in special elections.
"Some people don't even know that the election is Tuesday," he said. "Being a special election in mid-February that's sometimes a problem. So we're just trying to spread the word and make sure that people know that this is an important race. The only question on the ballot is who do you want for mayor? I think the choice is very clear."
To get voters to the polls the Alvarez campaign is using a strategy they call 'knock and drag.' They'll be handing out personalized fliers marked with polling places and offering rides to the polls.
"We're essentially knocking on doors and dragging them to the polls," said Stephen Heverly, Alvarez campaign spokesperson. "I mean not literally, but that's kind of the figurative way we explain it."
The Faulconer camp will also be going door-to-door this weekend in hopes of swaying voters from all different backgrounds. They have stacks of fliers ready to hand out in both English and Spanish.
"Talking to San Diegans from Rancho Bernardo to San Ysidro," said Matt Awbrey, Faulconer campaign spokesperson. "Letting them know that Kevin Faulconer is the man with the experience to lead our city forward."
Both camps are also getting elected officials involved in the last minute push.
Friday afternoon seven mayors from around San Diego County joined together to endorse Faulconer.
"Kevin knows how to bring people together," said Cheryl Cox, Mayor of Chula Vista.
Also present to endorse Faulconer were Sam Abed, Mayor of Escondido, Jim Desmond, San Marcos Mayor, Matt Hall, Carlsbad Mayor, Don Higginson, Poway Mayor, Judy Ritter, Vista Mayor and Bill Wells, El Cajon Mayor.
Friday night a variety of Democratic leaders attended a rally to support Alvarez.
"We have to elect David Alvarez as the next mayor of San Diego!" said State Senate President Pro Tem Darrell Steinberg.
Among the others in attendance were Congressman Scott Peters, Senator Marty Block, Assembly Majority Leader Toni Atkins, Congresswoman Susan Davis and former State Senator Denise Ducheny.