This is an archived article and the information in the article may be outdated. Please look at the time stamp on the story to see when it was last updated.
SAN DIEGO — An Oceanside man who as a child performed the voice of Charlie Brown in several "Peanuts" animated television specials and movies pleaded guilty Wednesday to charges of making criminal threats and stalking in connection with disputes with his girlfriend and a doctor who performed breast-enhancement surgery on her.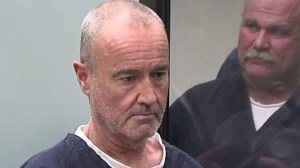 Peter Robbins, 56, will face a sentence ranging from probation to three years in state prison when he is sentenced next month.
Robbins was arrested in January while re-entering the United States from Mexico. The previous month, he had threatened Dr. Lori Saltz, who performed a cosmetic operation on his girlfriend, Shawna Kern, according to Deputy District Attorney Elizabeth McClutchey.
Saltz told authorities Robbins had paid for the surgery and follow-up appointments.
Kern, a Los Angeles resident, told investigators she was staying at a hotel in Carlsbad when she and Robbins got into a fight during which he grabbed her by the neck and demanded that she go with him to get back the money he paid for the breast enhancement.
Kern said her relationship with Robbins ended after that confrontation and that he then began calling Saltz's office demanding his money back, according to the court document.
Saltz stayed at a hotel because she was fearful of Robbins, and hired an armed guard for her business, McClutchey said.
The prosecutor alleged that Robbins left several threatening phone messages for Kern, saying in one, "You better hide, Shawna. I'm coming for you. I'm going to find you in Sun Valley or wherever the (expletive) you live and I'm going to kill you."
Robbins had purchased a gun — though he had yet to receive it — and practiced shooting at a firing range, according to McClutchey.
The victims considered Robbins a "desperate man" who "had nothing to lose," McClutchey said in court.
In an uncharged incident, Robbins allegedly threatened to kill a police sergeant who arrested him on Jan. 13. The suspect was released on bond the next day.
Robbins was 9 years old when he began doing vocal performances for such films and television specials as "A Boy Named Charlie Brown," "A Charlie Brown Christmas" and "It's the Great Pumpkin, Charlie Brown."