This is an archived article and the information in the article may be outdated. Please look at the time stamp on the story to see when it was last updated.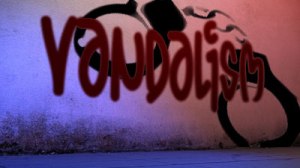 VISTA, Calif. — A young woman suspected of more than 300 graffiti incidents throughout Vista between August and April was arrested during a vandalism patrol, a sheriff's sergeant said Wednesday.
The 19-year-old woman's name was not immediately released, but sheriff's officials said she was a high-profile tagger and the damage costs to the city of Vista associated with the graffiti incidents was more than $105,000.
Sheriff's deputies conducted the patrol that focused on graffiti vandalism Thursday night, targeting areas along railroad tracks in the city frequented by taggers, sheriff's Sgt. G. Twyman said.
Twyman said the ongoing anti-graffiti operations helped reduce the amount of graffiti in the city, generated arrests and facilitated restitution for those whose property was vandalized.