This is an archived article and the information in the article may be outdated. Please look at the time stamp on the story to see when it was last updated.
VISTA, Calif. — An 18-year-old man accused of being responsible for numerous graffiti crimes in Vista in recent months pleaded not guilty today to 38 felony and 28 misdemeanor counts of vandalism.
"He's damaging and ruining peoples' neighborhoods.  The safety of the community is in jeopardy when people are out spray painting, tagging," said Deputy District Attorney Christopher Chandler.
Pedro Luis Padilla was arrested Nov. 18 on suspicion of committing about 470 tagging offenses in Vista, using the nickname "Selik," according to San Diego County sheriff's Deputy Adrian Moses.
"He was definitely someone who was on my radar — someone who's been doing it a long time, a lot of it," said Moses.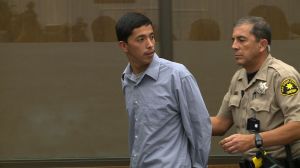 The same day Padilla was taken into custody, deputies arrested a 15-year-old boy at a separate location on suspicion of defacing roughly 460 locations under the moniker, "Slik." The underage suspect, whose name was withheld because he is a minor, is being prosecuted separately.
Moses said that combined, municipal cleanup costs related to both vandalism cases totaled about $275,000.
Padilla will be back in court Dec. 6 for a readiness conference and Dec. 11 for a preliminary hearing.