This is an archived article and the information in the article may be outdated. Please look at the time stamp on the story to see when it was last updated.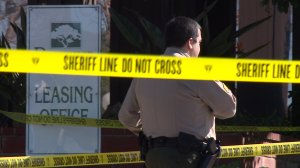 VISTA, Calif. – A 32-year-old man shot during a possible residential robbery at an apartment complex near National University Academy died at the hospital, authorities said Monday.
Allen Francois was shot outside the Pepperwood Apartments in the 2100 block of University Drive in Vista 12:30 a.m. Thursday, according to sheriff's officials.  He was declared brain-dead and taken off life-support Saturday at Palomar Medical Center in Escondido, the Medical Examiner's Office and deputies said.
Deputies arrived in the area to find the Francois on the ground, suffering from what appeared to be gunshot wounds, Lt. Glenn Giannantonio said.
The motive for the shooting was unclear, though a robbery at a nearby residence was reported shortly before the shots rang out, the lieutenant said. Witnesses reported seeing two people running off following the gunfire, according to Giannantonio.
No suspect descriptions were released.