This is an archived article and the information in the article may be outdated. Please look at the time stamp on the story to see when it was last updated.
VISTA, Calif. -- A wrongful death lawsuit is being filed against San Diego County after a deputy shot and killed a man earlier this month in Vista.
On July 5, members of a gang-enforcement team spotted Jonathon Coronel, a documented gang member wanted on an outstanding arrest warrant, riding in a green Buick on North Melrose Drive in Vista about 10:15 a.m., sheriff's spokesman Ryan Keim said.
Before deputies could conduct a traffic stop, the driver of the car pulled over and Coronel got out and ran away, Lt. Kenneth Nelson said. He fled for several blocks to the east, climbing over fences and running through private yards before a deputy caught up with him behind a home in the 200 block of Knoll Road. During an ensuing confrontation, the deputy fired multiple rounds at Coronel, who died at the scene.
Coronel's uncle told FOX 5 he is one of many who will continue to fight for justice. He stood alongside the family's attorney and the National Action Network Thursday to announce a wrongful death claim has been filed in his nephew's death.
"In my situation, I'm angry but at the same time there's a lot to be done," Diego Coronel, Jonathon's uncle, said.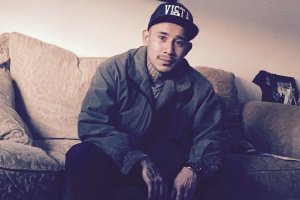 They also said they are asking the Attorney General's office to investigate his case along with four other officer-involved shootings in the state.
"This is not a racial issue, and I've said it often in the past that it is a race issue, but we are seeing very clearly that this is now becoming an issue beyond race," Rev. Shane Harris, with the National Action Network, said. "This is a policing problem."
The circumstances surrounding his death are still under investigation, but detectives said the deputy was informed that Coronel was known to carry a handgun and allegedly made threats to kill law enforcement officers.
Investigators said the deputy found him couched down with his right hand covered by a T-shirt and he turned toward the deputy while raising his shrouded arm in his direction.
Fearing for his life, detectives said the patrolman fired his weapon.
"We believe on the day of Jonathon's death that he was lying flat, in fact. We do believe he was submitting," Rev. Harris told FOX 5.
The sheriff's department has confirmed Coronel did not have any weapons on him at the time of the shooting, but they did recover a knife and sharpened object along his escape path.
Detectives are trying to determine if Coronel dropped those while running away.
A lot of questions linger in the case, including the number of times Coronel was shot.
"Our belief is, what we have, is that there was up to 16 shots and that's a problem. It's over excessive," Rev. Harris said.
During the gathering, Coronel's family also reminded people the deputy who shot and killed him is the same man who was cleared in the shooting death of Sergio Weick, a documented gang member who was shot and killed last year.
"We're saying we want to take the bad apples out so the bunch can continue its work because we really do believe that police get up every day not trying to kill someone," Rev. Harris said.
Coronel's family said they will continue to be heard until something changes.
"Everything with Jonathon and his death, I wasn't into this kind of situation -- you know, being an activist -- but it just changed me," his uncle said.
The San Diego County Sheriff's Department said it cannot comment on the lawsuit because it has not seen it yet.
Coronel leaves behind a three-year-old daughter.
A GoFundMe has been set up to help his family pay for burial expenses.