This is an archived article and the information in the article may be outdated. Please look at the time stamp on the story to see when it was last updated.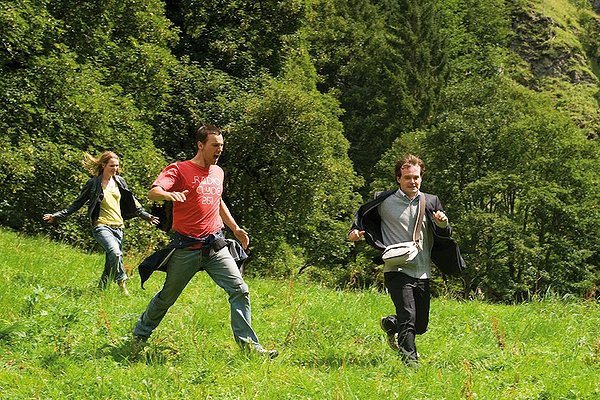 Vincent Gellner is played by Florian David Fitz – who has fits and tantrums. You see, he's suffering from Tourette Syndrome. This means at his mothers funeral in the opening scene, we get to see tics and cursing. I'm guessing more people with Tourette's curse in movies than in real life, where it's usually just grunts, tics and various sounds.
Fitz also wrote the script, and it's chalk full of problems.
When his dad – a big, bad politician (is there any other kind?) — puts him in an institution, he makes an escape.
He wants to scatter his moms ashes at sea, and who better to join him on this crazy road trip than his roommate (Heino Ferch of Run Lola Run). He has OCD and is a germaphobe.
They're joined by a flirtatious patient who is anorexic.
She's played by Karoline Herfurth (The Reader).
They'll be pursued around the beautiful landscapes by the head doctor and the angry father. Let the craziness ensue!
Fitz looks a lot like Adam Sandler and Ferch like Rainn Wilson. I think we have the cast in place for the American remake.
This movie is geared towards Sandler fans. After all, we're supposed to laugh at inappropriate outbursts and cursing as if we're 10-years-old.
There are a few laughs and a few touching moments – but they quickly get drown out by all the ridiculousness.
There are also some beautifully shot scenes. One has classical music blasting out of the car stereo, while Ferch conducts an imaginary orchestra near a foggy mountain.
Another scene has the three sitting on a huge cross; a wonderful visual.
The songs in this were awful. Well, aside from the Strauss and Beethoven.
The movie was like One Flew Over the Cuckoo's Nest if you took out the intelligence, humor, shockingly disturbing scenes, great acting, interesting story, antagonist…okay…maybe it's nothing like Cuckoo's Nest.
The film also gives us a third act that at least isn't predictable, but does try to teach us all a lesson. I'm not anorexic, but I did throw up a little in my mouth. It was that painful the last 20 minutes.
I give it 1 ½ stars out of 5.