This is an archived article and the information in the article may be outdated. Please look at the time stamp on the story to see when it was last updated.
SAN DIEGO — Several dozen people shed tears and shared stories at a vigil held in Spring Valley for Jacob Greenwald, who was killed by a hit-and-run driver early Sunday morning.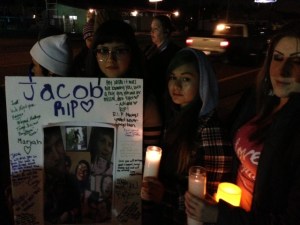 They gathered near the spot where an SUV struck the 20-year-old man on Campo Road.
Greenwald's father attended the vigil and was greeted with hugs. His mother was also there.
"I told my son to be happy.  Jacob is looking down on us, and he's in awe at the number of people who've come out, because he wouldn't have believed it," said Carolyn Rondthaler.
Greenwald died about a half mile from his home as he walked back from his job at a McDonald's in Rancho San Diego.
"Wanted to earn his money to go to school.  Wanted the money to fix a car and be able to drive.  He loved working," said Rondthaler.
For many at the vigil, grief was mixed with anger at the suspect, 33 year-old Jason Palmer, who was arrested in Serra Mesa hours after the collision.
Authorities believe Palmer was under the influence of drugs or alcohol when the SUV drove up on the sidewalk and struck Greenwald.
According to the CHP, Palmer was on probation and has a DUI conviction from 13 years ago.  And due to prison realignment, he was an early-release  prisoner.
"Coming to find out this guy was drunk and driving — it just makes it hurt a lot more.  It's just like, 'why?'" said Michael Robinson, a friend of the victim.