This is an archived article and the information in the article may be outdated. Please look at the time stamp on the story to see when it was last updated.
SANTEE, Calif. – The owners of a tire business in Santee are asking for help in finding their stolen pickup truck after releasing surveillance video of a car thief recklessly driving away in it.
Cameras mounted to the Wayne Miller's Mobile Tire business at 11350 N. Woodside Avenue captured video of a man walking around their business at 7 a.m. Saturday. He was able to get through the business's security fence and rummage through property for 30 minutes, according to Wayne Miller's business partner Melissa Wood.
The man found a set of keys and tried to unlock the front door of the business, Wood said.  When he couldn't get inside, he was seen getting into the company's white 2003 Dodge 3500 truck before driving it through the locked gates at the entrance of the property.
The unmarked truck has a license plate No. 6U86962, utility boxes mounted to the back and a spotlight.  The right front utility box is missing, according to Wood.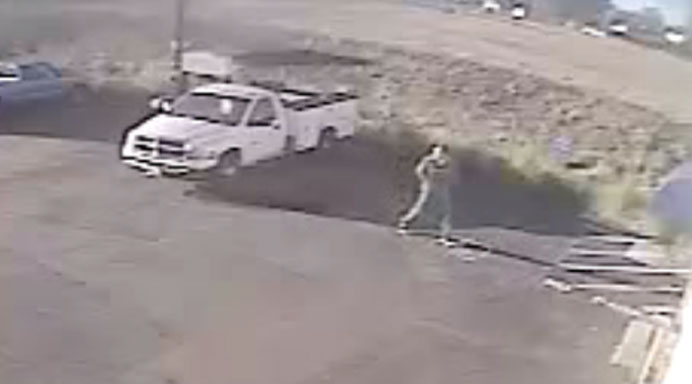 The owners of the business arrived to the property just before 8 a.m. Saturday and immediately knew something was wrong due to the broken fence.  After watching their surveillance video, Wood described the thief as a slender man with a V-shaped receding hairline.  He was possibly wearing black Converse shoes and a hooded sweatshirt.
"He kept his head down so I didn't have a good face shot," she said.
"[The thief] probably didn't get very far as the truck only had a few gallons of fuel in it and a right front low tire," Wayne Miller's Mobile Tire Facebook post said. "I'm thinking he probably ran out of fuel and it's sitting on a side street somewhere."
San Diego County Sheriff's Department in Santee is investigating.  Anyone with information about the stolen truck should call 858-565-5200.