This is an archived article and the information in the article may be outdated. Please look at the time stamp on the story to see when it was last updated.
NEW YORK — A day after a bombing injured 29 people in a Manhattan neighborhood, police are scouring the area for clues about who was responsible for the explosion and why it happened.
"We know it was a very serious incident, but we have a lot more work to do to be able to say what kind of motivation was behind this," New York Mayor Bill de Blasio told reporters Sunday. "Was it a political motivation? Was it a personal motivation? We do not know that yet."
A few blocks away from the blast site, investigators found one possible clue: a pressure cooker, with dark-colored wiring sticking out, connected by silver duct tape to what appears to be a cellphone, officials said.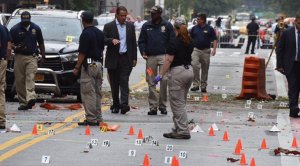 Surveillance video from Saturday shows a man dragging what appears to be a duffel bag with wheels near the site of the explosion on West 23rd street about 40 minutes before the blast, according to multiple local and federal law enforcement sources. Video shows the same man with what appears to be the same duffel bag on West 27th street about 10 minutes later, multiple law enforcement sources said.
In the video, the man leaves the duffel bag where police later found an unexploded pressure cooker. After he leaves, the video shows two men removing a white garbage bag believed to contain the pressure cooker from the duffel bag and leave it on the sidewalk, according to a senior law enforcement official and another source familiar with the video.
Investigators have not determined the relationship between the two men and the man dragging the duffel bag, the sources said.
Saturday's explosion shook New York City's Chelsea neighborhood and sent panicked people scrambling for cover. A police bomb squad was still investigating the unexploded device Sunday afternoon, NYPD Chief of Detectives Robert Boyce said.
"We don't have everything in. Think of a jigsaw puzzle out in the street right now," he said. "Do we think they're related? Yes, we have to move in that direction, but right now we're not ready to make those calls yet."
The blast occurred on the same day an explosion went off near a Marine Corps charity run in New Jersey and a man stabbed nine people at Minnesota mall, leaving many people across the country on edge. Authorities are investigating all three incidents as possible terror acts. In New York, law enforcement officials and the mayor said that without knowing who's responsible or what the motive was, it's too soon to call the Saturday bombing a terror attack.
The Department of Homeland Security is actively monitoring and participating in the investigations in New York and New Jersey. Investigators have found some similarities between the explosives used in New York and New Jersey, according to multiple law enforcement officials, but authorities said they have not concluded the incidents are linked.
"We do not have any specific evidence of a connection, but that will continue to be considered," de Blasio said. "We're not taking any options off the table.