This is an archived article and the information in the article may be outdated. Please look at the time stamp on the story to see when it was last updated.
SAN DIEGO – A Navy commander tried to rape a fellow officer at her home in San Diego, a prosecutor alleged Wednesday, but a defense attorney told a jury that the sexual encounter was between two consenting adults who had too much to drink and engaged in "aggressive and bizarre foreplay."
John Michael Neuhart II, 40, is accused of sexually assaulting the woman in the early morning hours of Sept. 12, 2016. He faces life in prison if convicted of assault with intent to commit rape and other counts.
Deputy District Attorney Jennifer Tag told the jury in her opening statement that Neuhart — the commander of a helicopter squadron in Guam when the alleged victim was stationed there as a flight instructor — met up with her and other colleagues in San Diego the night of Sept. 11, 2016.
Both the alleged victim and the defendant were in San Diego for separate training sessions, the prosecutor said.
After having drinks at a downtown hotel, Neuhart and the woman ended up at her home in Valencia Park, where he forced himself on her, Tag alleged.
The prosecutor said the woman remembers Neuhart pulling her jeans off and remembers pushing him out of her home, but not much else.
In a cell phone video recorded by the defendant, the woman can be heard telling Neuhart to "stop" as he tries to get her to open the door about 3 a.m.
"I've wanted you for a while," Neuhart tells her. When she tells him "no" and to stop, Neuhart says, "Is that your safe word? Is no your safe word?"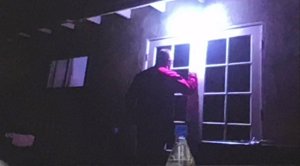 The woman is heard telling Neuhart that he is going to get attacked by her pit bull if he doesn't leave.
"Stop. It's not what I want!" the woman tells the defendant. "Please stop! Is this what you want, a girl who doesn't want you?"
Neuhart took off running after a neighbor called 911. The defendant was arrested by police a short distance away and suffered a broken leg.
Defense attorney Brian White told the jury that Neuhart didn't have the intent to have sex with the alleged victim against her will. White said the prosecution's case was based solely on circumstantial evidence.
White said Neuhart and the woman were touching and kissing each other earlier in the evening. The attorney said Neuhart said the woman told him, "When I say stop, don't stop."
White told the jury that the alleged victim was in a "blackout state" – – which can cause a person to act irrationally — after a night of drinking.
White said Neuhart set up his cell phone outside the alleged victim's door so he would have evidence in case she claimed rape.
Neuhart, a married Iraq War veteran, was relieved as commander of the helicopter squadron after his arrest. He is still in the Navy, his attorney said.