This is an archived article and the information in the article may be outdated. Please look at the time stamp on the story to see when it was last updated.
CHULA VISTA, Calif. — Chula Vista police Thursday released video showing an apparently unprovoked assault on a public bus in which a man threw a glass bottle at a fellow bus passenger, cutting his face.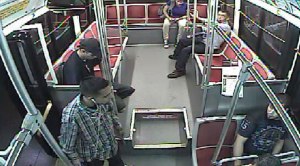 The suspect appeared intoxicated when the attack occurred on a Metropolitan Transit System bus about 11:50 p.m. on Aug. 27, Chula Vista police Capt. Gary Wedge said. The suspect issued a gang challenge and continued to cause a disturbance after the victim responded that he did not want any problems, Wedge said.
As the bus came to a stop at Third Avenue and Naples Street, the suspect again confronted the victim and threw the bottle at his face, causing a wound that required several stitches to close, Wedge said.
Police described the suspect as Hispanic, between 20 and 25 years old, about 5-foot-9 and weighing around 170 pounds. At the time of the assault, he was wearing a black and brown plaid long-sleeved button-down shirt, dark pants and brown suede shoes.
Police asked anyone with information to call them at 619-409-5487, or to contact Crime Stoppers at 888-580-8477.