This is an archived article and the information in the article may be outdated. Please look at the time stamp on the story to see when it was last updated.
LA JOLLA, Calif. – A father and son, both Marines and San Diego natives, are the first to be honored on the newly constructed Mt. Soledad Veterans Memorial walls, which will be used to honor thousands more for their military service.
Plaques with Vietnam veteran and former Camp Pendleton Commanding General Mike Neil, along with his father the late Marine Sergeant Major Jean Neil are the first of 2,400 to be placed on five new walls.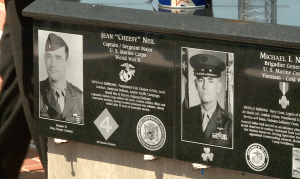 Their plaques add to the roughly 3,400 military men and women who've been honored on the memorial since it opened in 2000.
For 29-year-old Marine Sgt. Joseph Aguirre, it's a place filled with inspiration.
"For our future generations, I think it's one of the most important things for them to understand the sacrifices that have been made and that are on-going," said Aguirre.
Also, on-going are the memorial's legal challenges over the constitutionally of the giant, white cross at the center of the memorial.
President and CEO of the Mt. Soledad Veterans Memorial Association Bruce Bailey said there may be some relief on the way as both sides plan to meet in court and come up with a possible compromise.
"I need to tell you very clearly that Mt. Soledad Memorial Association's position is that these memorial sites, including the cross should stay exactly the way it is," said Bailey.
The memorial is paid for and kept up by association members, plaque sales and donations.