This is an archived article and the information in the article may be outdated. Please look at the time stamp on the story to see when it was last updated.
ALPINE, Calif. – The graves of seven veterans buried at the Alpine Cemetery were stolen.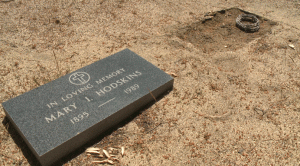 The 18-pound bronze plaques marking the final resting place for six men and one woman were stolen from the cement grave mounts, according to Alpine Cemetery Vice President Helen Keilholtz. One of the plaques was pried right off the cement slab.
"Why would somebody do that? Especially, here in Alpine in our cute little cemetery," Keilholtz said. "It's a real shame somebody has done this."
A total of 450 veterans are buried at the Alpine Cemetery.  Veterans said to desecrate even one grave is despicable.
"After he served his country and was put to rest and to have somebody take the plaque?" said John Rizzo, former commander of the Apline VFW.
San Diego Sheriff Department investigators suspect the markers are being sold for scrap metal.   The going market price for bronze is currently $2.10 a pound, locally it's about $1.60.
It's a loss of less than $30, but replacement will be difficult.  The Veterans Association requires the request to come from the family of the deceased.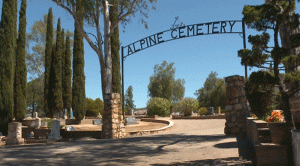 "A living relative is what we need, someone who can come to the cemetery," said Keilholtz.
Rizzo said tracking down family members will be near impossible.
"Some of those guys have been buried there for 30 or 40 years," said Rizzo. "We don't even know if we can contact the families."
The names of the seven stolen grave markers are as follows:
James Stephens, died 1968
John Dirks, died 1980
Charles Skidmore, died 1970
Martha Arnold, died 1986
Hugh Chance, died 1994
William B. Clark, died 1982
Andrew Sexton, died 1969
Anyone with information about the stolen graves has been asked to contact the Alpine Cemetery at 619-445-4830.