This is an archived article and the information in the article may be outdated. Please look at the time stamp on the story to see when it was last updated.
CARACAS, Venezuela – Venezuelan President Nicolas Maduro on Sunday ordered three U.S. diplomatic officials expelled from the country.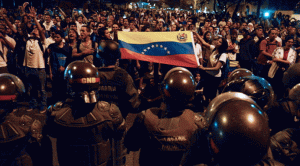 The announcement comes after the U.S. State Department expressed concerns about the state of affairs in Venezuela.
Three anti-government protesters died in clashes last week in Caracas, and authorities have issued an arrest warrant for an opposition leader on charges including conspiracy and murder in connection with the violence.
"We are deeply concerned by rising tensions, by the violence surrounding this February 12 protest and by the issuing of a warrant for the arrest of the opposition leader Leopoldo Lopez," State Department spokeswoman Marie Harf said Saturday. "We join the secretary general of OAS (Organization of American States) in condemning the violence and calling on authorities to investigate and bring to justice those responsible for the death of peaceful protesters."