This is an archived article and the information in the article may be outdated. Please look at the time stamp on the story to see when it was last updated.
SAN DIEGO, Calif. — A 20-year-old man whose van became stranded in heavy flooding in the Midway District near the Marine Corps Recruit Depot entrance was rescued by two officers who broke one of the van's windows and pulled the driver to safety, police said today.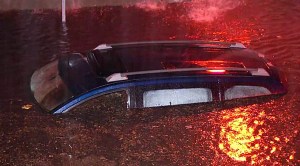 The rescue occurred at Pacific Highway and Witherby Street about 9:40 p.m. Thursday, according to San Diego police Officer David Stafford.
The man could not roll down his electric windows or open any doors because of the pressure of the water outside, Stafford said. The driver was taken to the hospital as a precaution.
Around the same time in the same area, a taxi cab also became stuck in the water but the driver and the four passengers, all Marines,  were able to get out on their own, Stafford said.
The flooding occurred when heavy rain caused a  water pipe to break, police said.