This is an archived article and the information in the article may be outdated. Please look at the time stamp on the story to see when it was last updated.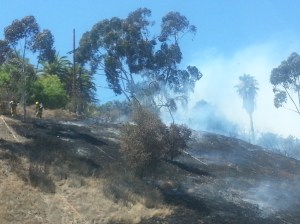 LA MESA, Calif. – A car fire in the southbound lanes of State Route 125 approaching Highway 94 spread to a nearby hillside, and prompted authorities to evacuate homes in the area, fire officials said.

The California Highway Patrol received reports of a car on fire on the highway south of Spring Street shortly before 2 p.m. and a SigAlert was issued for the area.

The fire spread to a nearby hillside and was burning close to homes, authorities said.
Residents on Garfield Street near state Route 125 and north of State Route 94 were asked to evacuate, Heartland Fire & Rescue Department officials said.

La Mesa police advised drivers to avoid the area of Lemon Avenue and Grossmont Avenue while they tended to the fire.