This is an archived article and the information in the article may be outdated. Please look at the time stamp on the story to see when it was last updated.
EL CAJON, Calif. -- The priest at the center of a Vatican conflict in San Diego has now officially been terminated from the church.
Father Noel Gorgis has served as a Chaldean priest for the last 26 years. A naturalized US citizen, religious persecution forced Father Noel to flee his homeland of Iraq decades ago.
"Iraq is gone, it's just historical land for me. It's the past. I'm looking for the future," said Father Noel.
But that future remains unclear. At issue is a demand by Patriarch Louis Raphael I Sako that Gorgis and 10 other Chaldean priests in the U.S. return to Iraq or face, in effect, excommunication.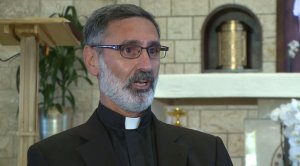 In an interview with Aleteia, a Rome-based Catholic news agency, Sako said that the survival of the church was at stake during the onslaught by Islamic radicals.
"We have been there for 2,000 years," he said. "We have a mission and a role, and if a future exists for the Chaldean Church, it is not in the diaspora but in Iraq. If all the families leave, and even the priests, the entire history and Chaldean Christian patrimony will vanish."
Gorgis, 49, known as Father Noel, is pastor at St. Peter Chaldean Church in El Cajon. Along with the Detroit area, eastern San Diego County has been a major resettling spot for Iraqi immigrants.
"We are not going to allow Father Noel to go to slaughter. He will be killed if he returns to Iraq," said Minority humanitarian Foundation president, Mark Arabo.
In hopes of overturning Sako's order, supporters of Gorgis and the other priests appealed to the Pope. Though not strictly part of the Roman Catholic Church in Rome, Pope Francis weighed in. A letter written with the authority of the Pope by a church official asserted that Gorgis and the others need not accede to Sako's demand.
Sako issued a statement that, in effect, said he did not acknowledge the Pope's authority to overturn his order that the priests return to Iraq.
"For him to be used as a pawn during this power struggle is heartbreaking. We will not lose Father Noel," said Arabo.
Arabo said they are looking at taking legal action in order to keep Gorgis at the church, but for now, the priest will step down starting on July 15.