This is an archived article and the information in the article may be outdated. Please look at the time stamp on the story to see when it was last updated.
UPDATED [August 20, 2014]: "Jackass" star Steve-O claims credit for "SeaWorld Sucks" prank
SAN DIEGO [May 25, 2014] – Drivers heading south on Interstate 5 near Mission Bay Sunday may have noticed one of the highway signs was defaced by a critic of SeaWorld San Diego.
California Highway Patrol received calls around 3 p.m. Sunday saying three men parked a car on the shoulder of I-5, ran across the southbound lanes with a ladder then one of them climbed on the sign. They covered over the word "exit" to make the sign read "Sea World SUCKS."
The incident happened amid protesting outside SeaWorld over Memorial Day weekend.  Protestors expressed their concern of the orcas being held in captivity.
Incidentally, comedian Steve-O of the "Jackass" movie series was seen on the side of the highway about an hour after the sign had been vandalized. He showed up with a camera crew to shoot a video segment.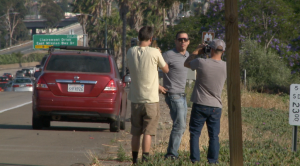 Steve-O is a well-known animal rights activist who has received awards from PETA, which has a long-standing disagreement with SeaWorld over its captive killer whale program.
Days before the highway sign was defaced, PETA sponsored a controversial sign at San Diego's airport discouraging tourists from visiting the theme park.
Steve-O denied any involvement with the prank and CHP investigators said he is not a suspect.
CalTrans restored the sign by Sunday evening.
"This act of vandalism demonstrates that, once again, these extremists are more concerned with publicity stunts than actually helping animals," SeaWorld San Diego spokesman Dave Koontz stated Sunday.