This is an archived article and the information in the article may be outdated. Please look at the time stamp on the story to see when it was last updated.
SAN DIEGO — The value of San Diego County's agriculture industry rose 4-percent last year, despite a plunge in the value of avocados, according to the Crop Statistics and Annual Report released Friday.
The increase brought the value to $1.75 billion, according to the report, which said ornamental trees and shrubs remained the No. 1 county crop in 2012 at $387 million, having taken over the top spot in 2009.
F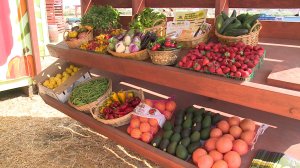 or the 25 years before that, indoor flowering and foliage plants were the highest valued local crop. Those were worth $338 million.
Bedding plants, avocados and tomatoes are also traditionally among the largest crops in the county.
The acreage of wine grapes grew by 478 percent last year, and the value grew to $5.5 million, according to the report.
The report said the value of avocados dove 24 percent to $158 million, from $208 million the previous year. The report compiled statistics, but did not state why the avocado value went down.
The report said total acres used for agriculture climbed last year for the first time since 2008, to nearly 304,000 acres.