This is an archived article and the information in the article may be outdated. Please look at the time stamp on the story to see when it was last updated.
LA JOLLA, Calif – A group of San Diego nurses is putting a new perspective on the scrutiny facing the Veterans Affairs system.
"No more stalling, save care now. No more stalling, let the nurses vote," chanted a crowd of nurses in front of the VA medical center in La Jolla on Wednesday afternoon.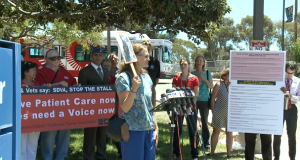 "We need staff," said Debra Rice, a VA nurse.
The VA has been under fire for service delays that have resulted in patient deaths at other locations in the hospital system.
This time, the nurses say poor communication and staffing are their biggest problems.
"In the past we would see maybe 85 patients during the day and now we are seeing over 125, 150 per day," said John Lallo, an ER nurse.
The emergency unit of the hospital is in the worst shape, according to the nurses.
"I know spinal cord injury but as an ER nurse I don't know the specifics those nurses know but the mentality by the administration here is that a nurse, is a nurse," said Rice who argues that many of the nurses working are temporary employees without very good training. "Anybody who has ever hired a temporary help including nurses knows that they are not as dedicated like your staff is. We have had nurses leave in the middle of the shift."
In recent months VA hospitals throughout the country have been hit with government audits regarding long wait times, including here in San Diego County.
To deal with the issue, the VA plans to open several news clinics.
"Those will help see patients with lower acuities. I don't feel that our veterans are being neglected health wise but they deserve better," said Lallo.
To do better, the nurses are asking for a union and better communication.
"How can you lead from the top if you have never met with us? Everybody doesn't want to talk about the big purple elephant in the room. We want the elephant to be known. We've got problems, we need help," said Rice.