This is an archived article and the information in the article may be outdated. Please look at the time stamp on the story to see when it was last updated.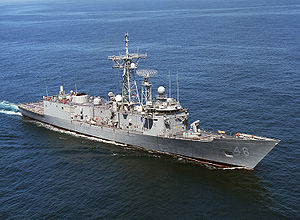 SAN DIEGO — The guided-missile frigate USS Rentz is scheduled to return Friday morning to San Diego from a seven-month deployment, according to the Navy.
After heading out last July 25, the officers and crew of the frigate, along with Helicopter Anti Submarine Squadron Light 49 and U.S. Coast Guard law enforcement detachments, disrupted four shipments of cocaine in international waters off the coast of Central and South America.The haul totaled nearly 2,000 kilograms, according to the Navy.
The Navy said the crew found 963 kilograms of cocaine in the hold of a fishing boat on Aug. 10, 260 miles north of the Galapagos Islands. On Nov. 30, the sailors teamed up with the Coast Guard cutter Rush to seize 460 kilograms in a Costa Rican fishing boat off Panama.
More than 300 kilograms were found Dec. 17 aboard a fleeing Ecuadorian vessel northeast of the Galapagos Islands, according to the Navy.    The Navy said the final seizure was made Jan. 20, when 243 kilograms was taken from a boat that had been spotted by an aircraft.
Between all four incidents, 13 suspected drug smugglers were detained, Navy officials said.
The interdictions were part of Operation Martillo, which targets coastal drug trafficking routes. The Navy said 14 countries have taken part in the operation since it was launched two years ago.
"The cartels, or transnational criminal organizations behind this smuggling, are engaged in wide-ranging illegal activities, destabilize the regions in which they operate, and engage in brutal and ruthless violence to further their criminal activities," said Rear Adm. Karl Schultz, commander of the 11th Coast Guard District.
"They threaten the security of our homeland and we need to aggressively thwart their smuggling operations. Every shipment stopped denies these criminal organizations the funds and resources they need to perpetuate their violent, destructive practices."
Besides the drug interdictions, the Rentz transited through the Panama Canal for a port visit to Cartagena, Colombia, and participated in an exercise with South American navies.