This is an archived article and the information in the article may be outdated. Please look at the time stamp on the story to see when it was last updated.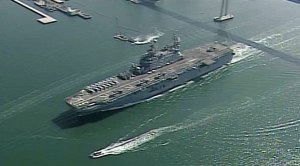 SAN DIEGO — The amphibious assault ship USS Peleliu left San Diego Tuesday morning for a naval exercise and deployment to the Western Pacific and Indian oceans.
Peleliu and its crew of around 1,050 sailors will participate in the multinational maritime exercise known as RIMPAC — for Rim of the Pacific — as the command ship for an expeditionary strike group. A group of Marines will also be embarked on the ship.
The training will take place from June 26 to Aug. 1 in and around the Hawaiian Islands.
"It's never easy, but it's the mission that's called to be done so I'm going to do it to the best of my abilities and we'll be back soon enough," sailor Charles Morris told CBS8.
Another San Diego-based ship, the guided-missile cruiser USS Cape St. George, left Monday for RIMPAC and a Western Pacific deployment.
More than 25,000 personnel from 23 nations in 48 surface ships, six submarines and more than 200 aircraft are set to participate in this year's RIMPAC exercise, according to the Navy. Navy officials said the participating nations will use a wide range of capabilities pertaining to disaster relief, maritime security and naval combat.
The vessel will proceed to other operations following the exercise, according to the Navy.