This is an archived article and the information in the article may be outdated. Please look at the time stamp on the story to see when it was last updated.
SAN DIEGO — The "littoral combat ship" USS Freedom is scheduled to return Monday to its home port of San Diego, completing its first deployment, the Navy announced Thursday.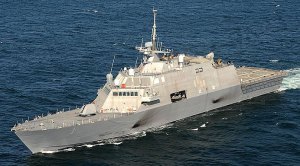 The Freedom, a new style "agile" LCS designed to fight in coastal waters in various configurations, patrolled waters in Southeast Asia, took part in exercises with allied navies and helped out with typhoon relief efforts in the Philippines, according to officials.
The vessel has two crews of 53 sailors each, plus air and other detachments.
The Freedom left San Diego March 1 with its "gold" crew, which was relieved in August by the "blue" crew.
"While there was a strategic underpinning to our deployment, we were able to flex and test the LCS concept of operations of forward stationing these ships in places like Singapore, rotating crews, and operating with long- standing and new partners in the region," said Cmdr. Dale Heinken, the blue crew commanding officer. "There were many successes and numerous lessons learned that will pave the way for future LCS deployments."
It was the first lengthy deployment by the new type of ship, which was plagued by structural and mechanical problems during its development.