This is an archived article and the information in the article may be outdated. Please look at the time stamp on the story to see when it was last updated.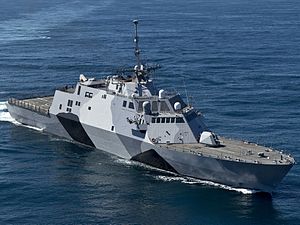 CORONADO, Calif. — The crew that took the littoral combat ship USS Freedom out on its maiden deployment to Southeast Asia is scheduled to fly home Wednesday, according to the Navy.
The sailors under the leadership of Cmdr. Timothy Wilke, known as Crew 102, turned the vessel over to replacement sailors Tuesday in Singapore before they boarded aircraft for the flight home.
The Navy has set up a system for the LCS program that allows for crew- swapping and reconfiguration of the vessels, keeping the ships deployed overseas longer and making them useful for a variety of missions.
The Freedom and others of its type are built for patrolling coastal waters.
The Freedom left its San Diego home port March 1 and is halfway through its deployment to Southeast Asia.
"USS Freedom and this amazing crew have really led the way," said Wilke. "We have met every event head-on and have advanced the knowledge of the ship's operational capability while operating forward. It's been an incredible honor to command a ship like this on such an important deployment."
Those who took over the ship are Crew 101, and they are expected to come home late this year, according to the Navy.