This is an archived article and the information in the article may be outdated. Please look at the time stamp on the story to see when it was last updated.
SAN DIEGO — To spice up the University of San Diego baseball team's banquet on November 2nd, head coach Rich Hill, who always likes to keep things interesting, decided to step it up "Gangnam Style."
"He said 'I got an idea, we're gonna learn this dance,'" said senior catcher Austin Green. "And we're like, 'What? Dance?'"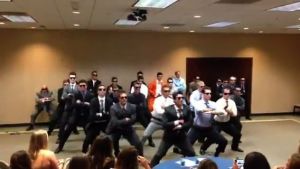 The coach even got in the dance and the video went viral.
While it doesn't have the record 834 million-plus YouTube views of the original video by Korean rapper Psy, the Toreros have tried to catch up.
"I've watched it multiple times just so we get more views," Green said. "We did well, we did well as a team after only practicing four or five times."
Coach Hill actually had a method to his madness. He figured by learning to dance together his team would play better together.
"I was in the father-daughter dance with my daughter Lindsey at Rancho Bernardo High School for the past couple of years," Hill explained. "I thought it was pretty hard. We're doing all this sequential learning kind of stuff and going here and there and back of the stage and front of the stage and I'm thinking to myself, 'Hey why can't our guys figure out the bunt defenses or where to line up on a cut relay on a double-cut relay situation.
"A light bulb went off and I thought, 'This might be a good thing for us to do.'"
"It seems a lot easier to do that now after getting the whole team to dance together," said junior pitcher Micheal Wagner.
The Toreros have advanced to the NCAA tournament five of the last seven years and will debut in their new stadium on February 15.
Any chance we'll see them perform their dance before they play?
"Yeah, Troy, let's not get a little crazy here," Hill said. "We've already done one crazy thing, that will not be happening I guarantee you that. But that song will be played in between innings at some point."
If anyone wants to learn how to dance along, just watch the Toreros.