This is an archived article and the information in the article may be outdated. Please look at the time stamp on the story to see when it was last updated.
SAN DIEGO -- Marines and sailors at MCAS Miramar had a special visitor Tuesday.
Secretary of Defense Chuck Hagel made his second stop on his final domestic trip as Secretary of Defense following his resignation in November.  With just a month left in his tenure, Hagel is thanking troops across the country in all four branches of the U.S. military and their families.
"I very much appreciate you allowing me to disrupt your day and come and have the opportunity to thank you," Hagel said.
Lance Corporal Kyle Herman has been a Marine for just over a year. He is originally from Nebraska, the home state of Hagel and was one of the few given an opportunity to ask the Secretary of Defense questions.
"I don't know what I'm going to ask him, but it's an honor to meet him that's really about it," Herman said.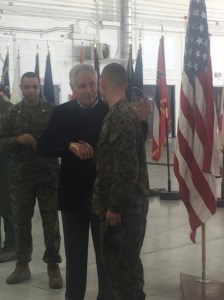 The Pentagon Chief spoke to Marines and sailors seated in a hangar at Miramar, home to the 1st Marine Expeditionary Force. He talked about several topics including the evolving technology of terrorists and the security threats affecting our country.
"They're immediate, they're deadly, and I think when you add all that up...then you add a fairly recent element of cyber warfare into all of this," Hagel said.
Hagel fielded questions and offered words of advice.
"You cannot force things in life. You try to, you'll make a huge mistake. Your personal life, your professional life, you can try to adjust things, you can try to make things work. Be smart about it, but you can't force 'em," Hagel said.
He posed for photos and handed out challenge coins to service members, many who recently returned from Afghanistan and those who are preparing to deploy in support of Operation Inherent Resolve.
"I've let the currents take me in different ways and that's what I'm going to do this time. See what happens," Hagel said.
Hagel wants to conclude his public service with a visit to the place it all began – Fort Bliss, Texas where he completed basic training in 1967.