This is an archived article and the information in the article may be outdated. Please look at the time stamp on the story to see when it was last updated.
SAN DIEGO – Federal officers arrested more than hundred fugitives during a two-day sweep in San Diego during an operation dubbed "Operation Free Bird."
The U.S. Marshals Service joined forces with local authorities to track down and arrested suspects accused of a range of crimes. The crackdown focused on "high risk" fugitives, including those wanted for gang offenses, weapon charges, sex crimes, armed robbery and homicide.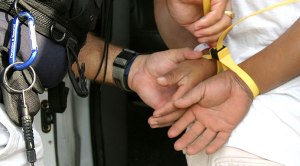 "Some of these people have been on the run for six or seven months," said Supervisory Deputy Steve Jurman, with the US Marshals. "Sex crimes, gangs, drugs, guns, homicides — those were the cases we were targeting."
Officers seized drugs, money and stolen police gear, Jurman said. In one case, an 8–month-old baby was placed into child protective custody, because he was being cared for in a drug house.
Agents spent three months preparing for the mission and served the warrants throughout North County, South Bay, East County and San Diego.
The mission required no extra funding and no overtime because local authorities helped provide manpower, gear, and police dogs.
The joint effort was the first of its kind in San Diego County, and authorities say they hope to make it an annual operation.
"What culminated was 102 cases are now closed," said Jurman.