This is an archived article and the information in the article may be outdated. Please look at the time stamp on the story to see when it was last updated.
LAKESIDE, Calif. — The San Diego County Water Authority Wednesday dedicated its newly raised dam at the San Vicente Reservoir, which is designed to boost the local supply and protect against drought or emergency.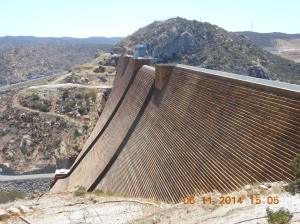 The three-year, $416 million construction project to raise the San Vicente Dam by 117 feet was essentially completed in June, SDCWA spokesman Mike Lee told City News Service. The dam is now 337 feet high.
The water authority also constructed a surge tank, a pump station and 11 miles of large-diameter pipeline, which together cost another $400 million or so, according to Lee.
The extra water in the reservoir will be able to supply 300,000 homes annually. It will also give the county extra water in case of emergency.
The water authority expects it to take between two and five years to refill the reservoir to its new level, depending on rainfall, the availability of imported water and local demand. The body of water will remain closed to recreational use until it reaches the level of a new boat ramp.
Construction is continuing on a new marina.