This is an archived article and the information in the article may be outdated. Please look at the time stamp on the story to see when it was last updated.
United Airlines is flying a 787 Dreamliner for the first time in four months.
One of six Dreamliners operated by the world's largest airline company was scheduled to take flight around 11 a.m. for a trip from Houston to Chicago. The plane was grounded in January due to concerns about the plane's batteries overheating.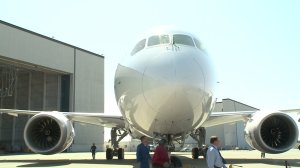 The batteries, which have now been modified to prevent them from getting too hot, are a major factor in the plane's energy effieciency. Boeing says the 787s are about 20 more fuel efficient than airplanes of comparable size.
United will keep the 787s over land for the first several days it's back in flight, sticking to domestic routes. But the plane is meant for longer distances overseas, where its fuel efficiency is most notable. The Chicago-based airline expects to fly its first international route with a Dreamliner again on June 10 with a flight between Denver and Tokyo.
United Continental Holdings Inc. was the first U.S. airline company to get a Dreamliner. It now has six of them; four have been repaired with modified battery systems and are ready for service.
Read more at chicagotribune.com