This is an archived article and the information in the article may be outdated. Please look at the time stamp on the story to see when it was last updated.
IMPERIAL BEACH, Calif. — The door at the Imperial Beach Chamber of Commerce is always open to welcome in visitors and this week an unusual one decided to drop by.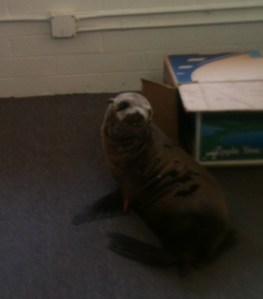 A sea lion pup made its way into the office and found a safe spot under employee Cynthia Fulk's desk.
"It was just looking around," said Fulks. "It was very confused, very lost and just trying to find his way home."
Shocked, Fulks called 911.
"I told [the dispatcher] 'there's a seal in my office… yes, a live seal!" Fulks said. "It was a very unique experience, but the animal was very, very sweet."
Animal Control and Imperial Beach lifeguards responded and took the animal to SeaWorld for care.  They later found out it was the second time this sea lion had beached itself this year.
It's happening in record numbers along California beaches. Already SeaWorld has rescued more than 350 seals and sea lions locally.
In Imperial Beach alone, Capt. Robert Stabenow said lifeguards have rescued 35.
"I'd say it's probably three times the normal number we get," said Stabenow. "Usually in spring, we get about 10 sea lions that beach themselves."
The sea lions have been spotted in all sort of places – front yards, places, lounge chairs and more. SeaWorld recently rescued a pup from a La Jolla hotel patio.
The pup from the Chamber of Commerce is currently under SeaWorld's care. Officials said it is doing well and eating, which is a good sign.