This is an archived article and the information in the article may be outdated. Please look at the time stamp on the story to see when it was last updated.
SAN DIEGO — Prince Albert II of Monaco is scheduled to join famed oceanographer Walter Munk Thursday for a conversation on exploring the seas and the importance of oceanographic research, conservation and climate change.
The prince followed his father's footsteps in his interest in the environment and the oceans. Earlier this year, he launched a three-year campaign of scientific explorations to remote locations at sea.
The only head of state to visit both poles, he received the Roger Revelle Prize from the Scripps Institution of Oceanography in 2009 to recognize his efforts to raise environmental awareness and advance scientific understanding.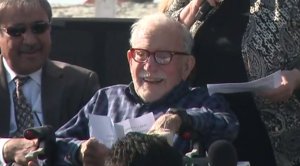 "We are honored to host His Serene Highness Prince Albert II at UC San Diego and thankful that he will join us in lauding Walter Munk as we celebrate his centennial birthday," said UCSD Chancellor Pradeep Khosla in a statement earlier this month.
"The Principality of Monaco has a long history of oceanographic research and conservation," Khosla said. "This commitment to scientific discovery and conservation are values we share at UC San Diego, and have been lifelong attributes of Walter Munk."
Munk turned 100 last week. The city of San Diego recognized him by adding his name to a part of the boardwalk at La Jolla Shores where he conducted experiments.
He joined Scripps in 1939 as a doctoral student. He subsequently invented the science of forecasting waves — which assisted allied landings in World War II — and trained military meteorologists.
He also pioneered tide prediction, and many aspects of ocean acoustics, ocean circulation, and deep-sea tides. More recently, he has explored the relationship between changes in ocean temperature at sea level and the ocean between ice sheets and the sea floor.
Monaco is an independent city-state located on the Mediterranean coast of France, with a population of nearly 39,000.