This is an archived article and the information in the article may be outdated. Please look at the time stamp on the story to see when it was last updated.
SAN DIEGO — College students and teenagers are notorious for distracted driving, but a new University of California, San Diego survey shows adults aren't much better.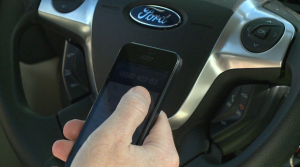 Drivers texting and driving are not hard to find. When UCSD researchers surveyed 715 people ages 30 to 64 they discovered  more than two-thirds use their phones behind the wheel.
It get's worse, 92 percent said they didn't think they could text and drive safely, but do it anyway.
According to the study, adults drive distracted less often than college students, but many admitted to the dangerous behavior while their kids were in the car.
"It was less than 10 percent of the time, but still a lot of them are doing it," said Dr. Linda Hill of the UCSD Department of Family and Preventive Medicine. "Any [texting increases] the crash risk 16 times and when you have kids in the car, it's just outrageous."
CHP is cracking down this month; cell phone use is the leading cause for crashes in California.
Nationwide, there were approximately 3,300 deaths and 400,000 injuries in 2011 in car crashes involving distracted driving.
"A lot of people think that April is distracted driving awareness month and that is the only month that we write citations for distracted driving, but that is not true," California Highway Patrol spokeswoman Mary Bailey said. "We are always out as officers looking for distracted drivers."