This is an archived article and the information in the article may be outdated. Please look at the time stamp on the story to see when it was last updated.
LOS ANGELES – At least 700 cars remained trapped Wednesday inside two parking structures at UCLA after a 93-year-old water main ruptured, spewing up to 10 million gallons of water onto the campus and nearby streets.
Using an online registration system to track vehicles in the university's lots, campus officials have determined that nearly 400 of the marooned cars belong to students, almost 300 to campus staff, more than a dozen to faculty and about 40 to visitors.
Officials on Wednesday said up to 300 of the vehicles were partially submerged in water and several hundred more were damaged.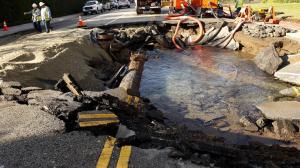 On Tuesday, firefighters helped five people escape two underground parking garages that were flooded with torrents of water. Firefighters searched about 200 cars but found no other victims.
UCLA is offering marooned faculty and staff members paid administrative leave or the ability to telecommute.
"The last thing we want them to do is have them worry about coming to work," said Assistant Vice Chancellor of Facilities Management Kelly Schmader. "They've got bigger issues to worry about."
After the rupture occurred shortly before 3:30 p.m., gushing water opened up a 15-foot-wide hole on Sunset Boulevard and deluged the campus. At one point, the geyser spewed water as high as 30 feet into the air, officials said.
"The quantity of water that came out of these pipes is something I don't think we've ever seen on campus," Schmader said.
The water — which gushed for about four hours from underneath Sunset Boulevard, uphill from the campus — submerged two electrical transformers, knocking out power to the Arthur Ashe health center, officials said. Power has yet to be restored there.
The building was one of six on campus that were closed Wednesday, including the Pauley Pavilion and Wooden Center athletic buildings.
The main that ruptured is 30 inches in diameter. It carries 75,000 gallons of water a minute from the Upper Stone Canyon Reservoir, Los Angeles Department of Water and Power officials said.
Fewer than 15 feet of the pipe will have to ultimately be replaced, said Jeff Bray, who runs DWP's water distribution.