This is an archived article and the information in the article may be outdated. Please look at the time stamp on the story to see when it was last updated.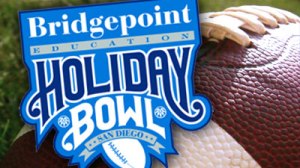 SAN DIEGO — The UCLA football team is scheduled to arrive in San Diego today for a series of events leading up to Thursday's Holiday Bowl at Qualcomm Stadium.
The teams — Baylor arrives Saturday — are scheduled to attend the Navy & Marine Corps Lunch and visit Rady Children's Hospital Sunday, the San Diego Zoo on Monday and SeaWorld San Diego on Tuesday.
The Bruins will practice at San Diego State and the Bears at Mesa College.
The game is a homecoming for UCLA redshirt freshman backup linebacker Aaron Wallace, a 2011 graduate of Rancho Bernardo High School. Bruin coach Jim Mora also has a tie to the region, having been a San Diego Chargers assistant coach from 1985-91.
Although the Holiday Bowl has had a contract with what is now the Pacific-12 Conference since 1998 to supply one of the game's teams, UCLA will be the first Los Angeles-area school to play in the game.
UCLA has sold its entire allotment of 11,000 tickets. Of the 70 schools participating in bowls, UCLA is among six that has sold its entire ticket allotment, athletic director Dan Guerrero said.
Holiday Bowl executive director Bruce Binkowski said he "would expect" UCLA's presence in the game "will certainly boost our ticket sales." He said he hopes ticket sales will approach 60,000.
The Holiday Bowl sold out each year from 2003, but since then has only sold out in 2009. The announced attendance for last year's game, which was between California and Texas, was 56,313.