This is an archived article and the information in the article may be outdated. Please look at the time stamp on the story to see when it was last updated.
SAN DIEGO – Baylor beat UCLA Thursday evening 49-26 in the Bridgepoint EducationHoliday Bowl before 55,507 fans. Though UCLA didn't win, fans said they are still proud of the season.
"So proud of the coach," said Susie Garcia. "He's done such a great job with the team, so we're excited as Bruins to just be back on the map as a football team."
The Bears, the nation's leader in total offense, was impressive in the first-half rolling to a 35-10 halftime lead.  UCLA was not able to catch up.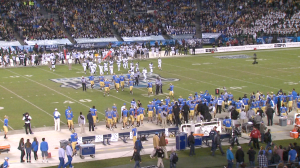 Prior to kickoff the Qualcomm Stadium parking lot was packed with tailgaters. Baylor fan Mike Schmitt enjoyed a fun rivalry at a tailgate of mostly UCLA fans.
"I've been hanging out with a bunch of UCLA fans for the last several years," said Schmitt. "They've been very generous. I've been doing tailgating with them, so I thought it would be a good time to come out and see a good game."
Members of the UCLA alumni band also entertained the crowd leading up to game time.
"There's nothing like it," said Joel Fierberg, UCLA alumni band director. "I mean college football is the greatest event in the world. To be part of the UCLA program is great. To share it with all our great fans and just having a great time is just unbelievable."