This is an archived article and the information in the article may be outdated. Please look at the time stamp on the story to see when it was last updated.
SAN DIEGO — UCLA will become the first Los Angeles-area team to play in the Holiday Bowl when it faces Baylor Thursday night at Qualcomm Stadium.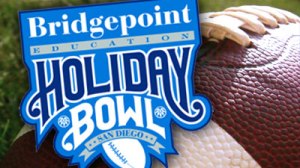 Since the Holiday Bowl began its affiliation with what is now the Pacific-12 Conference for its 1998 game, UCLA and USC have either been too good to play in it or not good enough.
The Holiday Bowl has the second choice among Pacific-12 Conference teams after the conference champions and any additional teams were chosen to participate in Bowl Championship Series games.
"To get UCLA here is great," said San Diego Bowl Association Executive Director Bruce Binkowski.
UCLA has sold its entire allotment of 11,000 tickets. Of the 70 schools participating in bowls, UCLA is among six that sold its entire ticket allotment, athletic director Dan Guerrero said.
Bowl organizers anticipate a crowd of approximately 55,000. The announced attendance for last year's game between California and Texas was 56,313.
One change to the game is its 6:45 p.m. scheduled kickoff, one hour and 45 minutes later than last year's.
The later kickoff was set by ESPN to accommodate its three bowl telecasts on Dec. 27, Binkowski said.
"6:45 is not a bad kickoff time for local fans," Binkowski said. "It certainly will affect some of the TV sets on the East Coast."
The Holiday Bowl could be in for some more changes.
This could be the second-to-last Holiday Bowl to match teams from the Pacific-12 and Big 12 conferences. The San Diego Bowl Association's contracts with the two conferences expires after next year's game, according to Binkowski.
"We're going to shop around a bit," Binkowski said.
Binkowski said Holiday Bowl officials want to move back up the order in which the games choose participating teams. The Holiday Bowl used to have the second selection from the Big 12 after the BCS games. Now it has the fourth pick and wants to choose earlier.
Holiday Bowl officials are encouraging fans to arrive early and consider taking the trolley. The Metropolitan Transit System will run extra Green Line trolleys throughout the afternoon from downtown San Diego. After the game, it could take up to an hour to accommodate all of the fans leaving the stadium, according to the transit agency.
A special North County Transit District Coaster train is scheduled to depart the Old Town Transit Center approximately 75 minutes after the game ends.