This is an archived article and the information in the article may be outdated. Please look at the time stamp on the story to see when it was last updated.
SAN DIEGO – UC San Diego and UC Riverside are first and second in the annual "socially conscious" ranking of national universities being released Monday by Washington Monthly magazine.
For the fourth year in a row, the San Diego campus topped the Washington Monthly list, which emphasizes such factors as enrolling and graduating low-income students, supporting research and encouraging students' public service.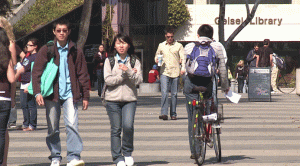 The 10-campus UC system once again did very well — with four campuses in the top 10 and six in the top 25. UC Riverside moved up to second nationally from ninth last year. UC Berkeley was fifth, UCLA 10th, UC Santa Barbara 22nd and UC Davis 23rd.
The Washington Monthly ranking is radically different from other prominent listings such as the one compiled by U.S. News & World Report, which puts more emphasis on a school's financial endowment, academic reputation and selectivity in admission.
For example, in the U.S. News' most recent listing, Harvard and Princeton tied for No. 1, and Yale was third; UC San Diego was tied for 38th with UC Davis and Lehigh University, and UC Riverside was 101st. In contrast, the new Washington Monthly study placed Harvard at eighth, Princeton at 31st and Yale at 54th.
In an article in its latest issue, Washington Monthly noted that UC pairs "public access with world-class research. Yet California is also one of the states that have cut university budgets and raised tuition the most. The continuing strength of the UC campuses in our rankings reflects their ongoing commitment to enrolling low-income students, and the fact that federal research spending has not been hit as hard as state support."