This is an archived article and the information in the article may be outdated. Please look at the time stamp on the story to see when it was last updated.
SAN DIEGO – The U.S. Navy is testing an unusual drone warship considered a game changer in naval defense systems.
The 132-foot ACTUV, nicknamed "Sea Hunter," will patrol the world's oceans hunting and tracking enemy submarines and it will do it all without a single human aboard. The drone vessel can track an enemy submarine for thousands of miles for months at a time.
"[The Sea Hunter] as the unique capability to go out, to see other vessels operating potentially in our own waters," said Jared Adams of Defense Advanced Research Projects Agency (Darpa).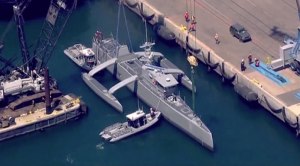 The military showed off the $23 million vessel in San Diego Monday.  Darpa will test the Sea Hunter conjunction with the Navy over the next two years off California's coast.
The tests will largely focus on its ability to react on its own to avoid collisions, the Daily Mail reported. During the testing phase, the ship will have human operators, but once it proves to be reliable, the autonomous surface vessel will maneuver itself.
"The Navy had some hesitation at first – about trusting an unmanned vessel to take over some of the mission space that traditionally has belonged to human beings," Adams said. "Now that they see the successes from unmanned vehicles with the Air Force, they've started to look at something like this — this capability as being a real game changer."
The Sea Hunter could be the first step in sending unmanned cargo ships to countries, military officials said Monday.
"We're looking at it as a force multiplier to be able to give our war fighters out there an ability to have that extra bit of situational awareness," said SPAWAR Pacific's Gerry Dejaco. "It will keep them out of harms way and focused on their mission."