This is an archived article and the information in the article may be outdated. Please look at the time stamp on the story to see when it was last updated.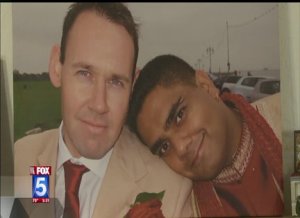 SAN DIEGO– It's a major shift on U.S. immigration policy. The State Department will now recognize same-sex couples and grant them joint visas.
U.S. Secretary of State John Kerry made the announcement Friday.
Before the announcement, married gay couples had to apply for entry visas separately.
It appears Sunny Joat and his partner James Ellis are living happily ever after, but getting to this point wasn't a fairly tale.
" It was arduous," Joat said. "There's hoops that you have to jump through and you have to be very careful about what you say and what you're intentions are."
The couple met 13 years ago in Portsmouth, England and entered a civil partnership nearly six years ago.
In 2009 Joat's mother's started having health problems and it was a no brainier that both of them would move to be near her in San Diego.
They ran into a problem. Their relationship wasn't recognized by the US government and unlike straight married couples,  Ellis needed a separate visa to live in the country.
"I was basically torn between making a choice between living with my family here in the U.S. or trying to make my own family with James," Joat said.
Ellis had to go to grauate school and get a student visa to live in the U.S. legally, which strained their finances and put their future in limbo.
"There's nothing permanent here and I want it to become permanent and we both want to really stay here," Ellis said.
Countless other couples in the same position will have an easier trip.
Friday Secretary of state John Kerry made this announcement:
"Effective immediately when same sex spouses apply for a visa the Department of State will consider that application in the same manner that it would consider the application of opposite sex spouses," Kerry said.
That means it will be easier for foreign nationals who are married to U.S. citizens to get entry visas.
Foreign same-sex couples will be able to apply for visas jointly and their applications will get the same preferential treatment as those from straight couples.
"I think it's a total game changer, it's really exciting," immigration attorney Brian Johnson said.
Johnson believes the policy change will have a far-reaching impact.
Aside from it making couples' lives easier, he says it also opens the door for more international recruiting in business and education.
"Now it's recognized across the board," Johnson said. "[That means] everything for students, work visas, investors, international exchange students and refugees."