This is an archived article and the information in the article may be outdated. Please look at the time stamp on the story to see when it was last updated.
SAN DIEGO – Two women, one armed with a handgun and the other with
a Taser, robbed a gas station today in the Emerald Hills section of San
Diego, according to police.
A  40-year-old woman and a 25-year-old woman, both described as heavy set and wearing black T-shirts with a "Union 76" logo entered the Valero Gas Station, on 1025 Euclid Ave., about 6 a.m.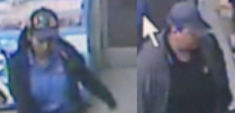 Surveillance video shows the two women approach the front door, and ask the clerk for a gas tank.
As soon as the clerk is seen opening the door, the two women charge in.
"And then they put the gun on her and ask for the money," said Valero gas station owner Deayea Singh.
Footage shows one of the suspects follow the clerk to the register where the clerk is ordered to empty cash from the register while another employee is ordered to use a screwdriver to pry open the office door.
Singh said after 13-minutes the women left with nearly $1,500 in cash and coins.
"I feel ok, as long as my cashier is safe, were all safe – money comes and goes."
According to one local man, this is not the first time the Valero has been robbed; he worries that security isn't enough.
"That lady could have been shot. There is no barrier there or no anything. Is there a silent alarm? Does my friend actually have any way of calling police?"
No getaway vehicle was seen and no injuries were reported, according to the police statement.
Anyone with information is urged to contact San Diego police.