This is an archived article and the information in the article may be outdated. Please look at the time stamp on the story to see when it was last updated.
LAKESIDE, Calif. – Two people were killed and three people were injured in a car crash in Lakeside Saturday, the California Highway Patrol said.
According to the CHP, two vehicles crashed head-on at Wildcat Canyon Road north of  Blue Sky Ranch around 5 a.m. One of the cars was headed northbound and crossed the into the southbound lane when the accident happened.
The wrong-way-driver and a passenger were killed. The other passenger had moderate injuries.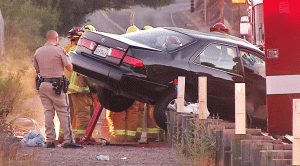 Authorities shut down both sides of Wildcat Canyon Road for four hours as they investigated.
Pictures of the scene show a car over the guardrail and another one overturned.
The driver of the other vehicle and a passenger in it were injured with severe injuries.
The injured were taken to a local hospital, the CHP said.
The names of the people involved were not released.