This is an archived article and the information in the article may be outdated. Please look at the time stamp on the story to see when it was last updated.
ENCINITAS, Calif. — Two men apparently fell from a cliff above a beach near San Diego on Wednesday while they were playing Pokémon Go.
The men were playing the game in Encinitas when they fell more than 75 feet to the beach below. According to officers, the men got distracted while trying to catch Pokémon.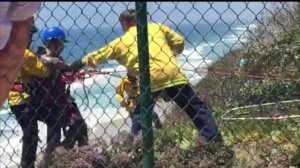 Crews at the scene used a rope to rescue one of the men. Neither man was seriously injured.
The game was released on July 7 and has been downloaded over 10 million times to Android and Apple devices.
Players capture the virtual creatures and can amass a collection and train them to battle Pokémon held by other players.
The game is currently only available as an app for smartphone holders in Australia, New Zealand, the U.S., Germany and the U.K.