This is an archived article and the information in the article may be outdated. Please look at the time stamp on the story to see when it was last updated.
SAN DIEGO — A man in a dark pickup truck opened fire on people in two separate cars early Tuesday in what appeared to be random attacks, but no one was hurt, police said.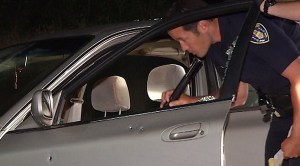 The first shooting in the 5500 block of Grape Street in Oak Park was reported at 12:07 a.m., according to San Diego police Officer Dan Lasher. The victim, Timmy Tsi, said he was sitting in the driver's seat of his car when a black man in his 40s pulled up next to him in a dark pickup.
"He just pulled next to me and then he shoot me," Tsi said. "I just lie down in the car."
The gunman fired three shots into the door, but none of them hit Tsi.
Six minutes later, officers received a call about a similar shooting in the 700 block of 60th Street near Brooklyn Avenue in Encanto, Lasher said. A man matching the same description fired multiple shots at a man and woman in another car. Again, no one was injured.
Police said the gunman was wearing a baseball cap and driving a dark pickup truck with an extended cab and four doors, possibly a Chevy.
Investigators did not say what kind of gun was used in the shootings or what might have prompted the attacks.