This is an archived article and the information in the article may be outdated. Please look at the time stamp on the story to see when it was last updated.
SAN DIEGO — A mentally ill man acquitted in a retrial this month of fatally stabbing a 12-year-old Escondido girl in her bed nearly 16 years ago will be on parole for eight months, instead of the initially ordered period of less than two weeks, the California Department of Corrections and Rehabilitation disclosed Wednesday.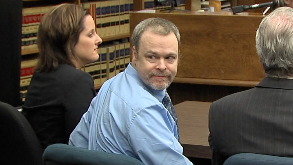 The extended supervised-release term for Richard Raymond Tuite, 44, resulted from a revised sentence for briefly escaping from custody at the downtown San Diego courthouse while awaiting his first trial in connection with the death of seventh-grader Stephanie Crowe, CDCR spokesman Bill Sessa said.
On Dec. 6, a jury found Tuite, a diagnosed schizophrenic with a long history of arrests and incarceration, not guilty of voluntary manslaughter. He was released from jail a week later and taken to an undisclosed location outside the San Diego area to serve out his parole.
He had been convicted of the same charge in 2004, but a federal appeals court in 2011 ruled that he did not get a fair trial because a judge had unduly limited cross-examination of a prosecution witness.
Due to the lengthy amount of time Tuite was in custody in the case, his parole initially was set at 10 days, the maximum allowed by law.
This week, however, a Superior Court judge doubled his custody term for the 2004 escape to 16 months, allowing for his period of supervised release to be extended until July, according to Sessa. The new order occurred during a hearing set at the time of his acquittal.
Tuite must serve his entire parole period outside San Diego County, the spokesman said. Though he thereafter will be free to go where he pleases, he will have to register with local authorities as a sex offender for life due to a conviction for lewdly harassing two underage girls 15 years ago.
Stephanie's body was found sprawled in the doorway of her bedroom by her grandmother early on the morning of Jan. 21, 1998. She had been stabbed nine times.
Her older brother, Michael, and two of his friends, Aaron Houser and Joshua Treadway, initially were accused of committing the murder, and police extracted confessions from two of them during lengthy interrogations.
The admissions were later ruled to have been coerced, and the charges against the boys were dismissed. During Tuite's retrial this year, the now- adult former suspects testified that they had no involvement in Stephanie's violent death.
Tuite had been in the area of the Crowe residence the night the girl was killed, agitated and looking for woman named Tracy, according to prosecutors, who contended that the disheveled and seemingly confused transient wandered into the Crowe home and attacked the girl. Investigators, however, found no physical evidence directly linking him to the crime scene.
Analysts later found the victim's blood on two shirts that Tuite had been wearing on the day of the murder. Jurors who voted to acquit Tuite said they believed a defense theory of "contamination," in which blood from the crime scene somehow wound up transferred onto Tuite's clothing.