This is an archived article and the information in the article may be outdated. Please look at the time stamp on the story to see when it was last updated.
SAN DIEGO – Sure you've probably eaten food from a truck before, but have you've ever shopped for clothes in a truck?
Kelly Carney transformed a recreation vehicle into a fully furnished fashion store on wheels.  It's the first and only fashion truck in San Diego.
"It's an RV that actually carried ATV's," said Carney. "I wanted people to feel like they were actually in a store."
C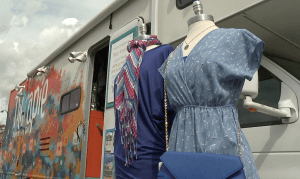 arney's truck is equipped with two dressing rooms and wood floors.
As with food trucks, Carney's fashion truck, named 'Therapie Boutique' is mobile. Instead of sitting and waiting for customers, as in the case of your traditional retail store, she takes her store to the customer.
Carney started her fashion truck business a year ago; since then her business has grown.
On Thursday, her truck at the North Park's Farmers Market showed off her spring fashions.
"Coral is really a hot color right now and mint, everything is mint," said Carney as she showed us a set of scarfs and handbags.
She buys most of her merchandise in Los Angeles' fashion district.
Not having to worry about paying rent and having only one employee, allows her to keep prices low she said.
"The average price for an item here is $40," said Carney, but pointed out that running a truck business is not cheap.
Carney has a $1M insurance policy she pays every year and must keep up with the trucks maintenance.
And while she manages her own schedule, this entrepreneur works long hours.
"It is a daily struggle figuring out what our next stop is going to be," said Carney.
Fashion trucks are a growing trend, with 'on the go' clothing shops now popping up in both the West and East coasts.